Restitution in France
A report published in 2000 – the Mattéoli Report – highlighted the unsatisfactory progress achieved in restoring property looted from France during the Second World War. Since that date, however, the looting of Jewish property throughout Europe has been the subject of a considerable research. Box-office hits such as Monuments Men and Woman in Gold have also done much to bring the sensitive issue of art-work restitution into the limelight.
Looted libraries, for example, are currently the subject of some attention. But the matter of looted musical instruments remains in the main ignored.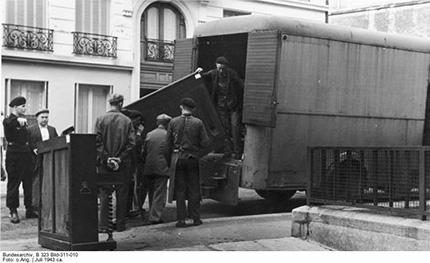 Within the framework of the famous ERR Einsatzstab Reichleiter Rosenberg, a dedicated team called the Sonderstab Musik (Music Commando) was sent to France as early as August 1940 to scoop up musical instruments, as well as important manuscript scores and other documents relating to the German repertoire.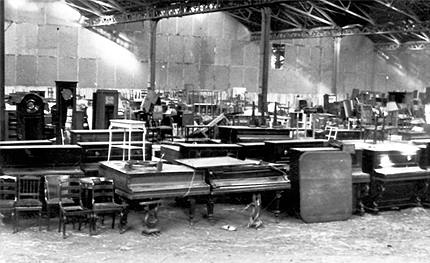 Few of these instruments were held in public or institutional collections. Most belonged to people who fell under anti-Semitic legislation.Most of the instruments concerned have vanished. Their histories however are various. Some were lent to reliable guardians, by original owners who never returned to retrieve them. Others were sold, sometimes under duress or for token amounts.
Other instruments and documents were of course confiscated and sent to Germany, where their trace is lost. Some perhaps remain gathering dust in long-forgotten vaults and safe-boxes. Others were destroyed in the Blitz or burnt in the camps. And yet others treated as trophies of war, recovered by Allied armies on both fronts, only to end up in the Soviet Union or in America.
Searching and researching
After the war, the search for looted instruments did not, in France, command as much as official enthusiasm as the search for lost works of art. Thus, instruments declared looted by their rightful owners all appear in the census entitled Repertoire des Biens Spoliés (Index of Looted Goods) under the mention «Request denied, June 13th, 1961.» Provenance is often uncertain, authentication more often subject to controversy.
These factors make the business of restitution arduous, more arduous than in the case of works of art. Nonetheless, we feel that the time has come to establish the history of looted musical instruments, as a mark of respect to their original owners and as an act of research on its own merits, with a view to establishing the singular and often complex trajectory of every surviving instrument
No other organization dedicated to such a task as yet exists.
There is not much time to lose, because the last surviving witnesses are beginning to disappear. The rise of a new nationalism makes honoring the memory of those that have gone before more urgent.
As the practice of restitution becomes more widely recognized, as national and other archives are declassified and as technical innovation makes the business of instrument authentication more reliable a new window of opportunity has opened.

Thus, our association has given itself the following tasks :
To draw up and cross-reference lists of:
• Confiscated instruments in all occupied countries
• Instruments registered as lost
• A comprehensive list of demands for restitution
• Instruments put up for forced sale under anti-Semitic laws
• Instruments sold on by the State
• Instruments restored to their owners
To fully exploit the following archival resources:
• In France, the National Archives, the Archives of the City of Paris, the Caisse des Dépôts et des Consignations, the Ventes des Domaines…
• Russian, German, Austrian, Belgian, Dutch, Swiss archives
• Dealers' and Manufacturers' records
• Major Conservatoire, Orchestra and Instrument Museum archives
• Unclaimed Property Registers
• Major Instrument-Collection Inventories
Also to gather and record the last surviving witness accounts of the period from dealers, musicians, experts, auctioneers, civil servants, museum curators…
To establish an Internet platform with a view to centralizing the above information and establish relevant forums.
Also to raise public awareness by :
• Alerting scientists and musicians
• Providing general information
• Raising consciousness among rightful owners
• Registering new demands for restitution